GCCA - Press | View the Archives for more Press Releases
Share this on: Facebook | Twitter | Google+

29th December, 2016

The Chief of Defense Staff
Defense Headquarters
Abuja.

Sir,

A PASSIONATE APPEAL FOR THE RELEASE OF THE UNDER-LISTED PERSONS WHOM HAS BEEN IN THE CUSTODY OF MILITARY JTF POST OF CHINENE IN GWOZA L.G.A. SINCE 30TH JULY, 2013.

While thanking you for the great effort you are exhibiting in defending and protecting this country from insurgency operations, we want to appeal to you on behalf of our members:

1) Mr. Bukar Musa Barawa (Former Vice-chairman, Gwoza Local Govt)
2) Mr. Samaila Ayuba Tangwaya –Business man/Farmer
3) Mr. Samaila Dama Ayuba – An active youth leader
4) Mr. Mathias Ibrahim – A primary school teacher and
5) Obadiah Wasuwe – A trader in Maiduguri

There pictures is shown below:-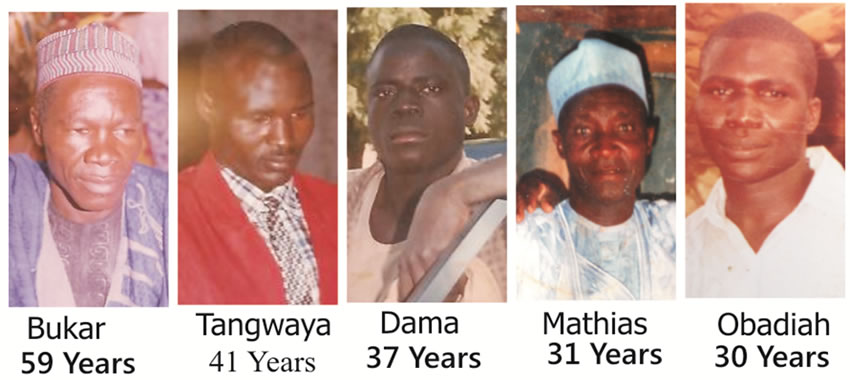 The first four on the list were abducted at Barawa town around 11:40am on 30th July, 2013 and were handed over to the Military JTF at their post in Chinene of Gwoza Local Government Area, Borno State same day around 2:10pm in the present of over 300 witnesses most of whom were women and the fifth (Obadiah) was abducted in his shop at Wulari, Maiduguri but we don't know where they took him to. The abductors were ten young men who happened to be from the same village with the abductees called Barawa in Gwoza LGA of Borno state. The abductors are:
1) Kalakwa Gwasa
2) Hamza Mamuda
3) Boss Mamuda Mbasuwe
4) Audu Gujengo
5) Usman Buba Gadaya
6) Hamman Tada Mbira
7) Arushe Ibrahim Ngwalighe
8) Manu Usman Drawa
9) Dauda Spa and
10) Hamidu Ibrahim Dugje

They called themselves Civilian JTF, that they were appointed in Maiduguri to serve in that capacity. But none of the persons they abducted were Boko Haram members. The abductees were known Christian brethren, born and brought-up in Barawa and never in their lifetime changed their religion from Christianity nor involved in any criminal acts. These ten abductors are now residing in Gwazari and Kasuwan-shanu of Maiduguri in Borno State.
Sir, kindly look into this matter with great concern on the abductees and their families since up to now their where about is a great challenge to all of us. We are happy that they have been in Military custody since then and that the Militaries on duty then assured our members that they will release them as soon as tension elapse. This is now over 3yrs and you can emerging the agony their families are going through as no information about them was hared till date.

Thank you and God's grace

Yours faithfully
FOR: Gwoza Christian Community Association (GCCA)

Elder Ayuba John Bassa
GCCA National Coordinator
(08037875055)

Rev. Filibus K. Goma
Former EYN President
Chairman BOT GCCA

COPY:
1) The Chief of Defence Intelligence, Defence Inteligence Agency Headquarters, Asokoro, Abuja.
2) The Chief of Army Staff, Defence Headquarters, Abuja.

View the Archives for more Press Releases